Get unprecedented reach with SprayFoamMagazine.com's Supplier Directory—improved advertising solutions, ideal for product manufacturers and national distributors of SPF Industry-related products.
POWERFUL MEDIA SPONSORSHIPS
Click the buttons for the respective PROGRAM MEDIA KITS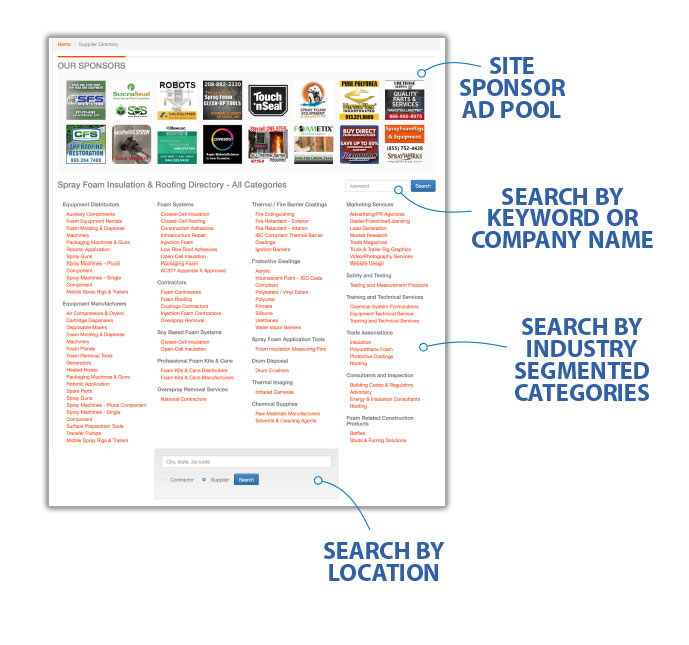 The Supplier Directory makes it easy for contractors, architects, specifiers and others to browse through the over 100 different product and business categories that encompass the entire spray foam, coatings, equipment, materials and technical services segments.
All Listings are searchable by name, location, and product category. All companies can be listed under multiple categories (5 categories standard). Each Search Listing is linked to a Full Page Detailed Area, with contact and company description information. Depending on the Listing Type, More or Less information will be displayed in both the Search Results and the Detailed Listing Page.
The methodology of advertising has changed. Consumers are media savvy and are looking to make intelligent purchases. They don't want to be sold. Many of them are looking to make significant purchases and almost always take to the Internet to conduct product and supplier research, become better educated and begin the buyer's journey toward that purchase. To reach them, one must think outside the traditional Internet advertising box. Banner ads and traditional advertising are just not as effective as they used to be, when used the same way.
SprayFoamMagazine.com have been at the Internet marketing and media forefront for well over a decade and remain the leaders in leveraging new media publishing technologies that lead to brand building equity and demand gen/lead gen sales results.
What do I get with my Supplier Directory Listing?
EXAMPLE OF SUPPLIER LISTING:
Company listed in our supplier directory
Advertising banners and logos will link directly to your detailed supplier directory listing
Self-publishing capabilities to post announcements and promotional pages
Additional documents can be linked to supplier directory
Video and image uploads available — housed in the SprayFoamMagazine.com video library
Ability to continually change the directory page as the client sees fit
Social media component with Facebook content tab, Instagram, LinkedIn, and YouTube available